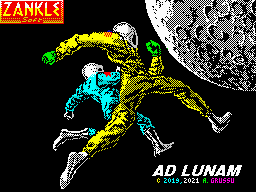 Hi everybody,
this is my first project made with ZX-Basic:
Ad Lunam,
a strategy/management game for the 48K ZX Spectrum where you are put in charge of the space program of the United States or of the Soviet Union. Starting from 1956, you must send a crew on the Moon and safely back to Earth within 20 years.
Before you even attempt such a task you must research new spacecraft and equipment, plan and carry out missions, recruit and train pilots, and try to stay ahead of your opponents.
The game has not yet reached its final stage, and is currently at version 0.2. Users should be able to play it to the end, although some features have not yet been implemented, fine tuning is needed and bugs might still be present. So beware!
For now, game and documentation are only available in English. Italian will follow, then Spanish, and possibly other languages as well. There's a very large amount of text in it, so translation won't be an easy task.
Download link will stay unchanged on every release. Here it is: <!-- m --><a class="postlink" href="http://www.alessandrogrussu.it/zx/AdLunam.zip">http://www.alessandrogrussu.it/zx/AdLunam.zip</a><!-- m -->
Feedback is welcome. Enjoy!